Printed mugs online for mom-to-be and preggers
Regular price
Sale price
Rs. 399.00
Unit price
per
Sale
Sold out
Share
Let's celebrate the joy of motherhood! 🤰 
To all the women who soon are going to enter the sleepless nights club- these muselot's mugs are for you😎
You might be feeling a bit fat nowadays, but it'll only last nine months unlike the joy of becoming a mom which lasts forever❤️
Mom pro tip:
Be ready for the upcoming weird late-night cravings, mood swings, the constant feeling of peeing and kicks in your tummy. 
It sucks but you're gonna love it. 😉
Coming soon in the cradle near you! 👶🏻
Details
- Made with love in India
- 11-Oz capacity
11 ounce (330 ml) capacity of our mugs is just right for a person for regular use at home, office or a coffee shop.
- Microwavable and dishwasher safe
These are ceramic mugs. They are strong and brittle, and can go in microwave and dishwasher.
- Classic printing technology
We use 3D sublimation printing technology to print your design on the mug.
- Glossy Finish
We give the printed designs a swanky glossy finish on these sublimation mugs so that each sip feels gentle on the lips.
Shipping and Delivery 
- Shipping
Under normal circumstances, all orders are printed upon order and dispatched within 3-4 working days of placing them.
For the current timeline around the COVID-19 situation, it is taking about 7-9 days to dispatch the orders on the basis of current order backlogs.
For full updates regarding the COVID-19 situation, refer to this page.
- Delivery
Once the orders are dispatched, the delivery timeline ranges between 3-9 days depending upon your location as follows -
Zone A - Within Chennai - 3 days
Zone B - Within Tamil Nadu - 3 days
Zone C - Other metro cities - 5 days
Zone E - Northeast and J&K - 9 days
Zone D - Rest of India - 7 days
Returns and Replacement
We want you to be 100% satisfied with your Muselot purchase.
We offer a 7-day free replacement, if there are any issues with the order, like manufacturing error, printing issues, wrong order delivered, and such. In case a replacement order is arranged due to quality issues, there is no need to send the original order back to us.
To read the full refund policy, click here.
✅ Muselot's 6-point checklist
Free shipping on all orders. Cash on Delivery costs 50 Rs. handling charges.

Safe payments via all credit and debit cards, Netbanking, Wallets like Freecharge, PhonePe, Mobikwik, etc. and PayPal®

All orders sent with an Insured and Trackable Shipping service. You get a Tracking number for every order.

Free replacement for quality issues or wrong product delivered within 7 days of the delivery date.

Lost in transit orders resent free of cost. Just contact us if you don't receive the orders post 7 days of the estimated delivery date.

Real humans on our support helpdesk! Feel free to connect with us at support@muselot.com. We reply within 7 hrs.
We use encrypted SSL certificates for 100% security
View full details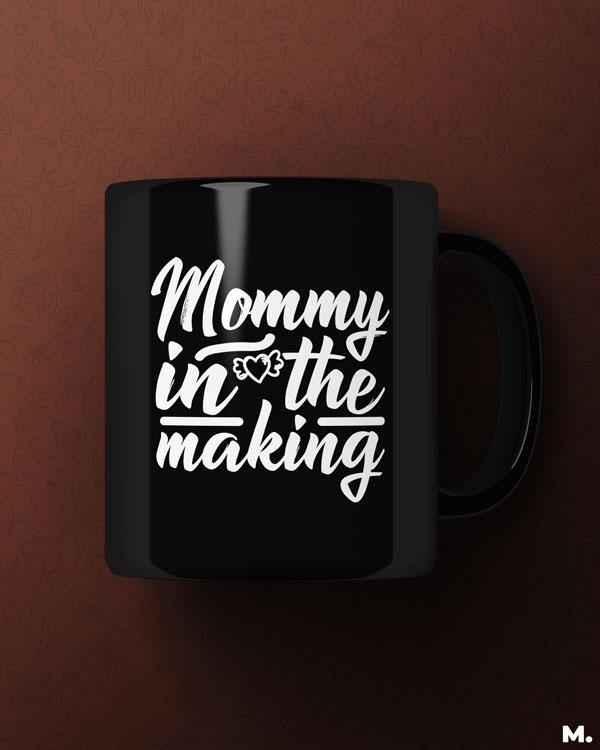 BEST MOM THEMED MERCHANDISE ONLINE AT MUSELOT
Congratulations, we have good news for you! Trust me, if a couple is sharing something with this news, they are either getting married or having a baby. The feeling of being a ride or a mom-to-be is just exceptional. Everything is just beautiful, from your new life to your journey to give birth to a new life.
There is no better feeling than holding your sweet angel in your arms. Those little eyes, hands, and legs with the sweet smile on their face can make everything just perfect. But we know it's not easy to get a perfect gift for mom and mom-to-be. 
You think of quality, perfect message, size, style, and everything else that you can list down. But don't worry, Muselot sensed this problem and created a great list of perfect products which are great gift ideas for moms and mom-to-be.
So, are you ready? Well, let's get shopping then.
How do you describe mom-to-be?
There are no words that can precisely describe the beauty of a mom-to-be. The glow on the face with the caring and giving nature adorned with beautiful smile and concern always, mom-to-be is one who never stops taking care of the coming child. If someone is above queen in this world, it's mom and mom-to-be.
And you need to take care of every mom and mom-to-be with all your heart. So, to express your gratitude and love for her ongoing care and sleepless nights, gift the mom t-shirts or maternity t-shirts from Muselot.
How would you describe motherhood?
Motherhood is not just the state of raising a child but also the natural state of being unselfish and staying awake all night to make the child comfortable. Motherhood is a holy emotion, an unrivalled sensation. A mother's relationship with her kid is the most beautiful and powerful. It makes her the happiest person on the planet, but this pleasure comes with a lot of responsibility. Motherhood is the most lovely emotion in the world.
With these gift ideas for moms, express your love for their unconditional care.
What is a baby shower?
Wow! That is indeed one of the most beautiful days in a woman's life. It is a day to celebrate the blessings of motherhood and perform rituals for the upcoming child. The day where every near and dear one showers their love for mom and child with blessed gifts and wishes. 
But the most challenging part of the baby shower is selecting a generous, thoughtful, and beautiful gift. So, check out the baby shower gift ideas for moms at Muselot for uncanny options.
What can you give a mom-to-be?
It is indeed an extensive list of things that you can give to a mom-to-be. The choice is entirely based on your decisions, but trust me; the options are endless and uncanny. So, here are a few options available:
Get the cradle for the baby to sleep in peacefully.

Some toys with safety standards can be a great choice.

The

oversized t-shirts

can give moms the optimum level of comfort.

The

maternity t-shirts

are all they need for comfortable sleep.

Some sweet cookies and healthy snacks to calm those pregnancy cravings.

The

cute hoodies for moms

to keep them warm in winters.
What can you give to your mom?
Wow! No gift can be compared to the love and care of a mom. And there is no way in which we thank her for her loving and caring nature throughout our life. Agreed? Well, I know you would. But still, there are some gifts you can give her:
What can you do to surprise your mom?
Well, you all must be thinking, what can you do to surprise your mom. Of Course, every mom deserves special treatment. Though gifts for moms are great, why stop here. 
Following are some ideas that you can try to surprise her:
Prepare the bed tea and breakfast

Cook a delicious meal and let her take a day off.

Plan a day in the spa to relax her.

Make your favourite coffee or tea here with

unique coffee mugs for moms

during the night.

Buy her something cool, cosy, and comfy, like a

t-shirt for mom.

Buy her flowers for no reason.

Watch her favourite movie on weekends with her.
The mantra is simple: Small things bring in big smiles.
Can you give mugs to mom and mom-to-be?
Well, there is no doubt that every mom or mom-to-be loves to have coffee or tea as a daily ritual. So, getting unique coffee mugs for moms is a great idea. Infant, Muselot has a great collection of ceramic mugs which you can use in the dishwasher or microwave without fear of cracking. So, why not try them today.
Where can you get pregnant t-shirts for mom?
If you are looking for pregnant t-shirts for mom or expecting mom gift ideas, then Muselot has a great selection available. You can get t-shirts, mugs, or sweatshirts of your choice here. 
Also, the mom t-shirts, maternity t-shirts and sweatshirts for moms available on Muselot are of prime quality. Made from cotton, shrink-free, wrinkle-free, easy to wash, and quick to dry, these are super comfy and cosy. 
So, get that perfect gift for moms just right here at Muselot!